Are you going to purchase a new washer?
If you are looking for a washer that has a medium size capacity, a variety of wash programs, manageable water levels, and an energy-efficient design, this Panda PAN6320W automatic washing machine can be a nice option for you.
In this Panda PAN6320W washer review, I will explore its features and performance. I will not do it randomly. Rather, I am going to discuss the actual pros and cons of this machine.
Just stay with me…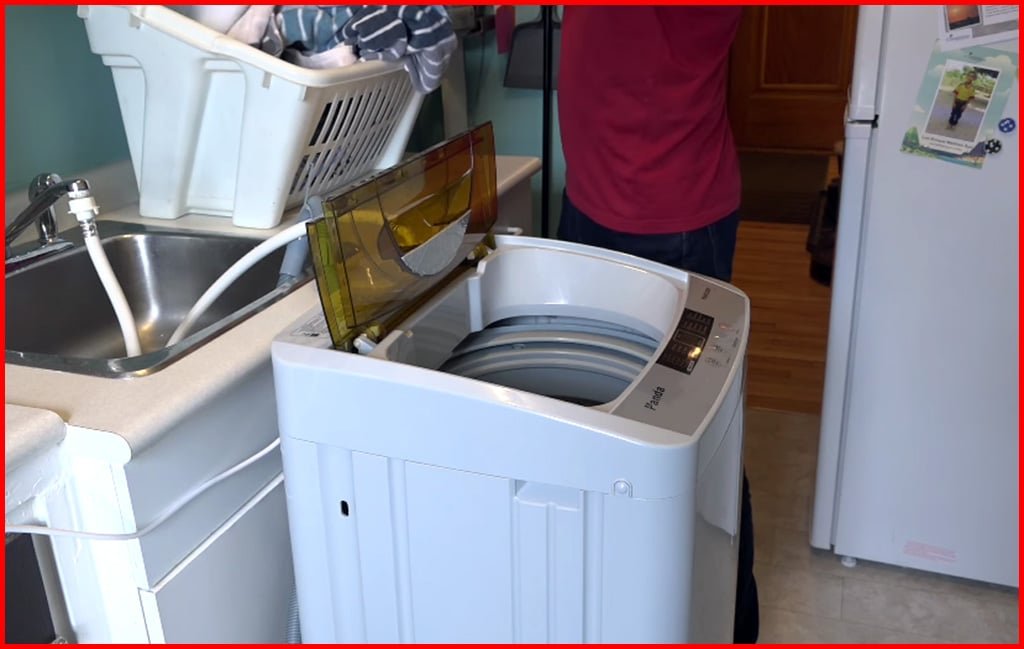 Panda PAN6320W Washing Machine Review: Is it Worth Buy
Do you know this Panda top loader offers various attractive features? Ok, Let's check…
10 lbs Wash Capacity
This Panda washer comes with 1.3 cu. Ft. capacity that allows you to load 10 lbs of clothes at a time. You can load small to medium capacity loads in this machine which save you time and effort.
10 Wash Programs & 5 Water Level Settings
There are 10 wash programs and 5 water level settings. It offers a range of wash programs to choose from normal, gentle, heavy-duty, and quick wash. You can select wash programs and water levels according to your clothes.
User-Friendly Control Panel & LED Display
Control panel of PAN6320W washing machine is straightforward and easy to use. It comes with electric controls with buttons and LED display. You can run or push or stop any wash cycle from the control panel. Besides, its LED display will show the cycle status. So, it's easy to track laundry progress.
Energy-Efficient Design
PAN6320W is Energy Star certified which means it consumes less energy. This not only helps to reduce your carbon footprint but also saves you money on your electricity bills in the long run.
Quiet Operation
This Panda unit creates 71-74 db noise while it operates. It means that you can run this machine without disturbing your neighbors or waking up your family while doing laundry.
Built Quality
The outside of this washer is built with highly durable plastic material. The inner tub is made with stainless steel that resists rust and chipping. The upper lid is made of transparent plastic that allows user to monitor the inside of the washer. Based on lid color, you can choose this machine from blue and grey color
Cleaning Performance
Its powerful impeller rinses the clothes more effectively, wash clothes thoroughly, and leaves them looking and smelling fresh.
Spin Dry
Though there is no hot dry option in this washer but it offers a spin dry option. Its powerful spin removes excess water from the clothes. It means that your clothes are near to dry. You just need to keep them in the sun for a short time.
Compact and Portable
PAN6320W washer comes with a compact and portable design. Its weight is only 51 pounds. It is less than other washers that offer the same wash capacity. There are 2 built-in rollers on the front side of the washer for easy movement. The dimension of this unit is 19″D x 20″W x 34″H. So, you can set this washer in your small apartment too.
Pros of PAN6320W
Large capacity allows users to load up to 10 lbs of clothes at a time.
10 different wash cycle settings and 5 easy-to-select water level settings.
Energy efficient washer reduces your energy bill.
Creates less noise. You can operate this machine without disturbing others.
Cons of PAN6320W
No built-in hot dryer. But its spin dry cycle removes excess water and lets clothes dry in the sun for a short time.
Not suitable for bulky items like king size comforters.
Limited features compared to the high-end washing machine. But provides more features compared to the same price range.
FAQ
What are the dimensions of this washer?
The dimensions are 19″D x 20″W x 34″H.
What is the capacity of this washer?
Its 1.3 cu. ft. capacity allows users to load up to 10 lbs of clothes.
Does this belong a spin dryer?
Yes, this machine offers a spin dry cycle.
How many washing programs and water levels does this washer have?
There are 10 wash programs and 5 water level settings in this washer.
Can this Panda machine handle large loads of laundry?
No, it is designed for smaller loads of laundry.
What is the warranty of this washer?
Generally, users get 1-year warranty when they purchase it.
Final Words
This Panda PAN6320W portable washing machine is a versatile and efficient appliance that's perfect for small to medium-sized households. If you are looking for a reliable and effective washing machine, you can keep this item on your list.