A washing machine is a vital appliance in every household. But choosing the right one is a challenging task. There are so many options available in the market. So, it is important to find the best one without crossing the budget. In this Panda PAN56MGP3 washing machine review, we will analyze pros and cons of this machine. It will help you to make a proper decision whether it is suitable or not.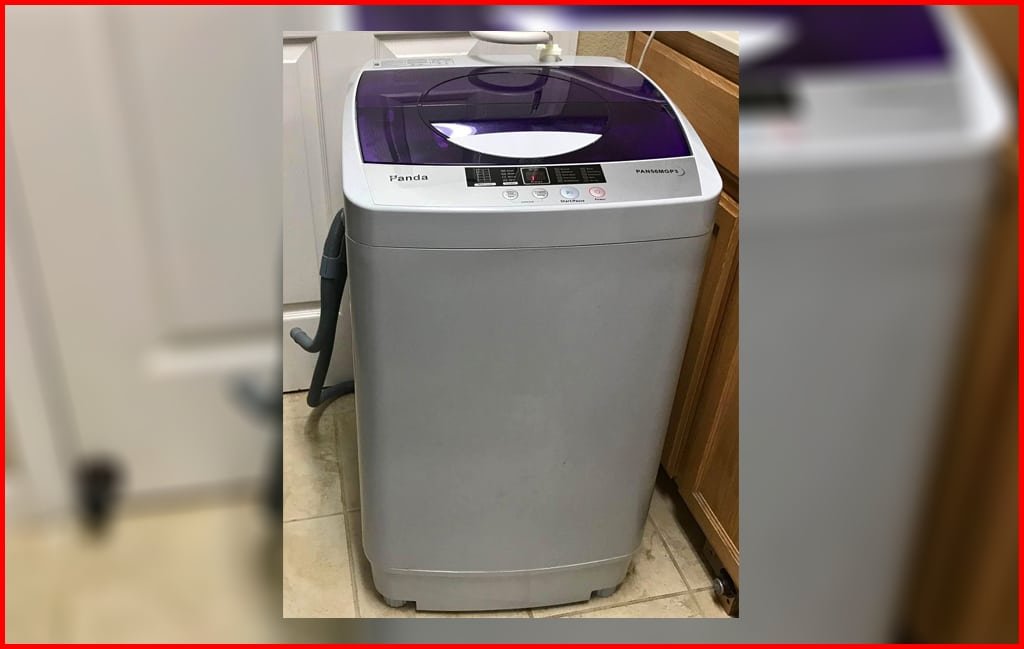 Panda PAN56MGP3 Washer Review: Why You Should Consider It or Not
This Panda Machine comes with several attractive features that pushed it to the top-selling washers list in the market. Let's check its features-
10 lbs Wash Capacity
This washer comes with 1.34 cu. ft. washing capacity that allows users to load up to 10 lbs of clothes. With this capacity, you can load several outfits at a time. It is suitable for a small family who needs laundry several times a week.
Electric Touchpad Control with LED Display
For easy operation, this Panda washer comes with electronic touchpad control and LED display. Users can choose different wash cycles and spin speeds as necessary from the control panel. Apart from that, you can check wash cycle status, spin speed, and time remaining status from the display. Delay start and child lock option are also available on this machine.
10 Wash Cycles & 5 Water Levels
There are 10 washing programs and 5 water level settings for easy cleaning. Washing cycle includes Normal, Standard, Quick Wash, Heavy Duty, Soak & Wash, Wash, Wash & Rinse, Rinse & Spin, Spin, and Air Dry. Users can select any cycle according to their clothes quality.
800 RPM Spin Speed
PAN56MGP3 washer has a spin speed of 800 RPM that ensures a thorough clean. Its high spin speed also helps remove excess water from clothes, making them easier to dry in the sun.
Stainless Steel Tub
This Panda washer comes with a durable stainless steel wash tub. It resists rust and chipping. So, it can be a nice investment.
Built-in drain pump
Generally, a low budget washer comes with a gravity drain. It fails to clean out tub water fully. But this washer comes with a built-in drain pump. So, users no need to worry about draining water.
Transparent Lid
Its transparent lid allows users to observe what's happening inside the wash tub during the wash cycle.
Built-in lint filter
This machine comes with a built-in lint filter. It prevents clogging and blockages by cleaning lint and debris from the water.
Energy Efficient
PAN56MGP3 is an Energy Star certified washer. That means it consumes less energy and saves you money on electricity bills. This feature makes it an eco-friendly option for those who are looking to reduce their carbon footprint.
Compact and Portable
PAN56MGP3 is a lightweight washer. Its weight is 51 pounds. There are two built-in wheels for easy movement and storage. This feature makes it an ideal option for those who need to change their apartment frequently.
Affordable
This automatic washer comes with various features at an affordable price. If you need a washer with various conveniences but don't want to break the budget, this one must be a perfect choice.
Pros of PAN56MGP3 Washer
10 different wash cycles and 5 water level settings.
Built-in drain pump and lint filter for the best performance.
800 RPM of spin speed, cleans clothes like new.
Electric touchpad control with LED display.
Cons of PAN56MGP3 Washer
10 lbs of wash capacity may not be suitable for a large family.
No built-in water heater.
FAQ
What is the capacity of this machine?
The capacity of this washer is 10 lbs.
Do I need to change my house plumbing to install this washer?
No, you can install this Panda machine in your regular house plumbing. You may inlet water hose using a standard faucet. Moreover, you will get a quick adapter kit for easy setup.
What is the spin speed of PAN56MGP3 washer?
It is 800 RPM.
Is the PAN56MGP3 washing machine Energy Star certified?
Yes, this washing machine is Energy Star certified. That means, it consumes less energy and saves you money on electricity bills.
Does the PAN56MGP3 washing machine have a digital display?
Yes, this washing machine has a digital display that shows the wash cycle status, spin speed, time remaining, etc.
Is the PAN56MGP3 washing machine portable?
Its 51 lbs weight and two rolling wheels on the front side have made it highly portable.
Does PAN56MGP3 washing machine have a hot water option?
There is no built-in water heater in the washer.
Can PAN56MGP3 be used in small apartments?
This washer has been designed for use in small apartments.
Conclusion
Panda PAN56MGP3 full automatic washer is compact and portable in design. It is ideal for small apartments and families with limited laundry needs. Like others, this washer has some minor drawbacks. Overall, this machine is perfect for a small family who is looking for features with a limited budget.