Money making is easy! Do you have a smartphone/laptop and internet connection? If yes, you can easily earn money on short links. It is share link earn money.
I am a newbie in the online world. I don't know without Facebook or Twitter. So, how is it possible to earn money online?
Ok, I know you are newbie in online world and you know how to use Facebook, Twitter or other social media. And I am going to use your knowledge and experience to teach you to earn money online. I actually need it.
So, let's start…
There are lots of website who offer you to short any kind of url. You will use their url shorter service to short url. It may be YouTube url or your site's url. Then you post this short url in various social media or any website you belong. When any visitor will click this url, he will see an ad. After seeing an ad he will then be redirected to the main url/website.
Here url shotner company/website gets money to show ads. And as a publisher you get commission. Yes, you can maximize your earning by proper strategy. Have you got an idea on earn money on short links?
Earn Money on Short Links Using Shrinkearn
There are lots of sites who offers you to earn money using their short link services. But today I am going to share the process using Shrinkean.
Step 1
Go to https://shrinkearn.com
Step 2
Click in the Sign Up button and provide the necessary information. Then click in the "Register" button to create a new account.
Step 3
Your account already has been created. Now "Log In" in your Account. It is your Dashboard.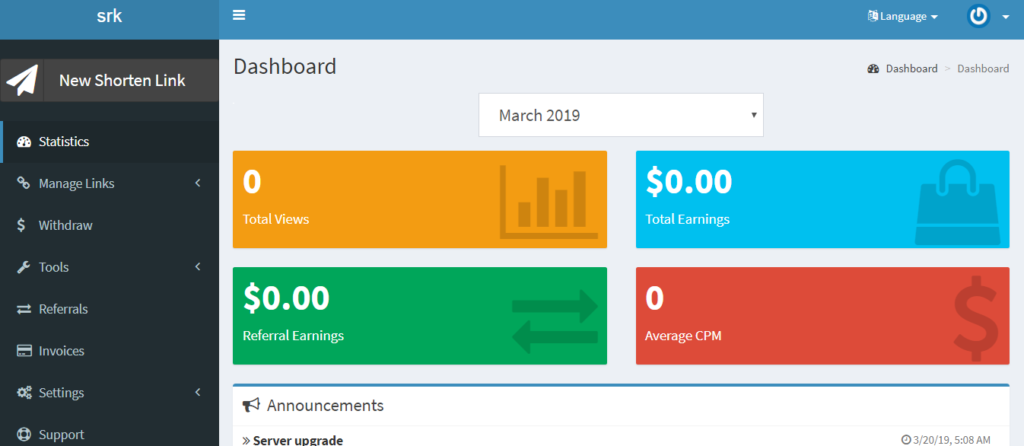 Step 4
Now your task is to short links and share it. Choose a URL that you want to short. For demo I have a selected a Funny YouTube video URL. Now click in the "New Shorten Link". Put your selected URL in the "Your URL Here" field and click in "Shorten" button. Now you have got a short URL. This is the thing that we need to share.
Step 5
Go Twitter or your LindedIn profile and share this URL with some actionable words. You can also use this URL in a blog post. Now wait and see the result.
Note: Remember you can't share this link in facebook.
Step 6
Visit your Dashboard. Here you will see a Statistics of Total Views, Referral Earnings, Total Earnings and Average CPM of your shared Short links.
Payment
Shrinkearn pays you in Every month in a fixed date. They let you use Paypal, Skrill, UPI (Tez UPI/PhonePe UPI/Paytm UPI (India), Bank Transfer (only for Indians). You can choose any method you wish.
You should have minimum withdrawal amount in your dashboard. Minimum withdrawal varies for different Withdrawal Methods. But it is not more than $10.
Announcements
Shrinkearn never accept traffic related to adult, faucet and redirect loop traffic (re-shorten links using other url shortener sites). If you break their rules they will deactivate your account without payment.
Final Thoughts
Hope you have gone through our article about how to earn money on short links. Isn't is easy? Now start your online earning using Shrinkearn.
Do you have thing to know? Please, let us know.
Disclaimer: I have used my own referral link here. If you use my referal link I will get a little commission. You can also "Sign Up" directly from Shrinkearn.